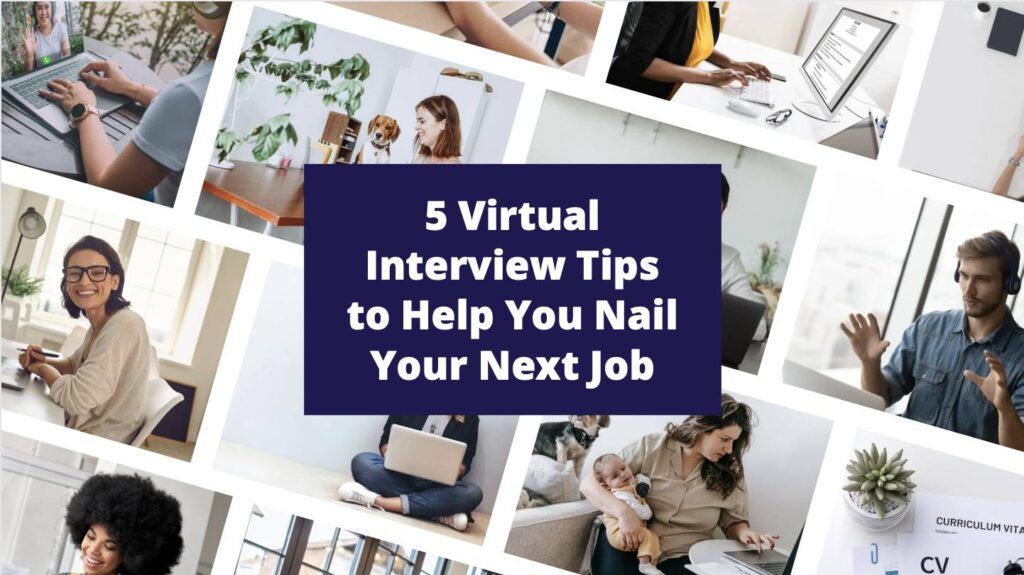 Let's face it, job interviews rank as one of the most stressful moments in a person's life. Many of us have had that nerve-wracking feeling the morning of our upcoming interview. Our thoughts circle around possible answers we have to general interview questions, what we are going to wear, how hard we are going to shake their hand, and checking at least three times to make sure that: yes, we did print off an extra resume. However, times have changed and most interviews take place over Zoom. But, that doesn't mean our palms aren't just as sweaty as they'd be in real life. 
And while working from home has its benefits, when it comes to interviews it presents new issues you never had to worry about before. Now there are technical glitches, the inability to read the interviewer's body language, and the awkwardness of having small talk through a screen. 
But don't sweat it, hiccups are to be expected with virtual interviews. Fortunately, we're here to help you get through those stressful moments with our top virtual interview tips that will help you ace your next interview to land that dream job.
1. Easy Access
When we had in-person interviews the golden rule was to always print two of everything. A cover letter, a resume, references, and anything you think you'd possibly need for a successful first impression.  And just because we are virtual now, doesn't mean you shouldn't be just as prepared. Make sure you have access to all the documents you'll need. 
Easy ways to do this are to have them pulled up in separate tabs on your computer. Or you can have a list of links going to these items pulled up in a word document, a note on your phone, or a draft email ready to be sent out if the interviewer asks for you to resend the items. The faster you can pull your documents up, the more prepared you'll appear. Also, be sure you know how to screen share through Zoom or the platform of choice the interview is on. 
2. Be Distraction Free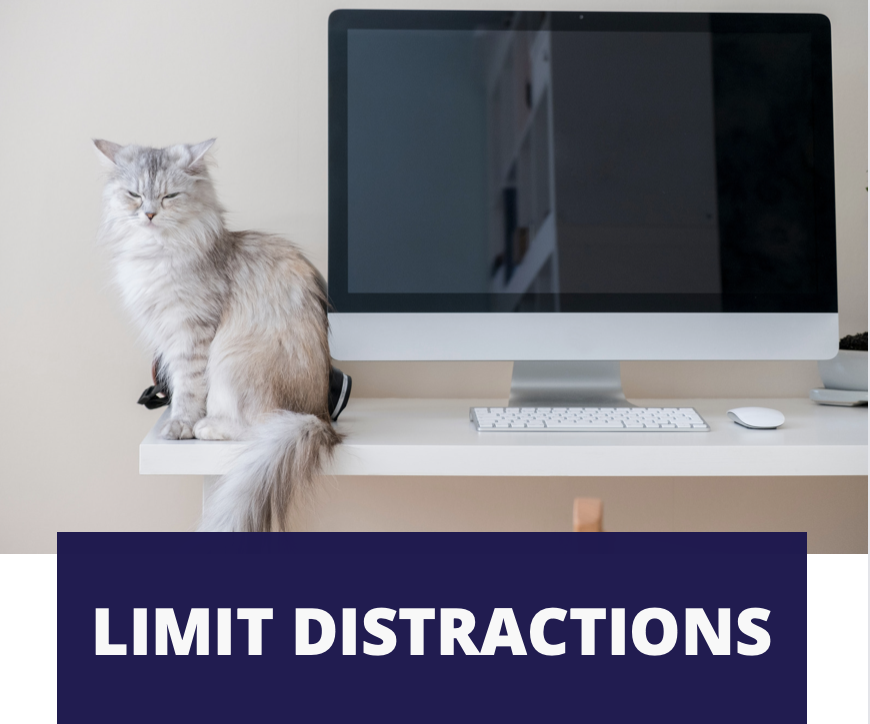 Many of us are still working out of our own homes. This means our personal life and professional cohabitant now. We've all seen a fellow employee's kids jumping around behind them, or a kitten crawling across the computer keys. But when you're getting ready for an interview make sure you, and your household know that for at least that hour of the day, it's quiet hours. Or if you do have kids, make sure it's at an hour they are away at school, with friends, or have an activity to do. You'll want to make sure that you are completely distraction-free. 
Other distractions to limit would be to place your phone on do not disturb, not to have a dishwasher or washing machine running loudly in the background, and not be near any loud street or outside noise. It's important that your attention remains on the person interviewing you and not on any noise or movement that could possibly be happening within your own walls. 
3. Triple Check Your Wifi
We understand, that sometimes technology has a mind of its own. However, during the interview process, you'll want to make sure you have access to your network. This is why it's wise to double-check all of your equipment before signing on for the interview. We recommend checking the day before, the hour before, and 10 minutes before.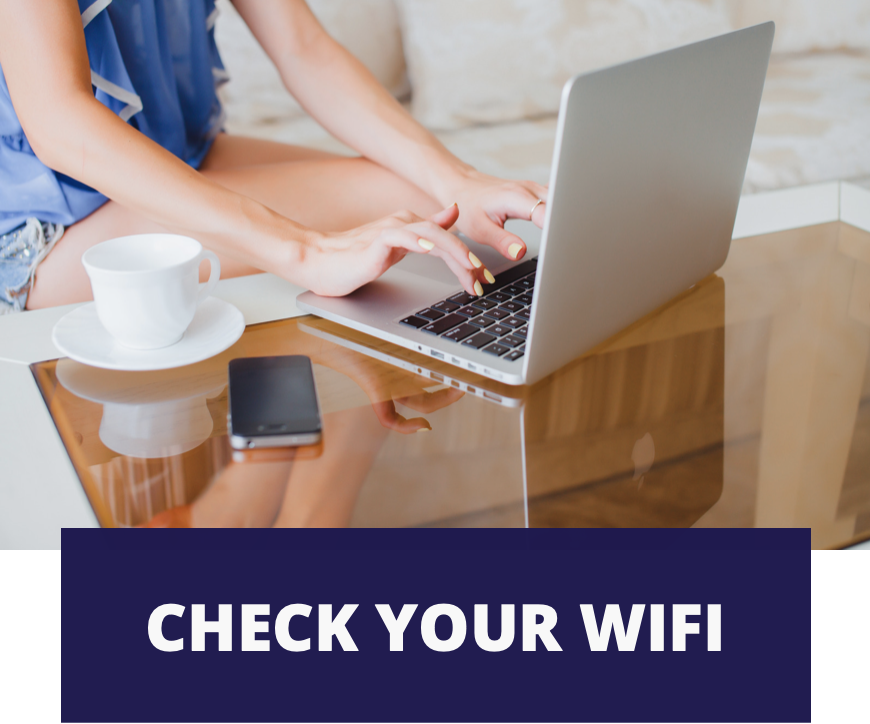 If you notice the day before that your Wifi is slow, or not working properly, you'll have enough time to possibly schedule someone to come and fix it. Or you can always have time to re-adjust your plans and find a new place to go to get on a functioning Wifi network. 
This is true for the hour ahead. If you're having problems the day of, we recommend calling a friend or going to a library that has private rooms. Then you'll be reassured that your network won't give out on you. 
Unfortunately, if your Wifi gives out 10 minutes before, there's little you can do. So, our only tip here is to turn your Wifi off, a drop your HotSpot on your phone if you have access to one. Then you'll be able to join and still make the interview. 
 4. Dress For Success  
Even though #WFH has given us the luxury of wearing yoga pants for the past two years when you're interviewing it's important to look the part. Trust us dressing in a way that's polished and professional can help you out.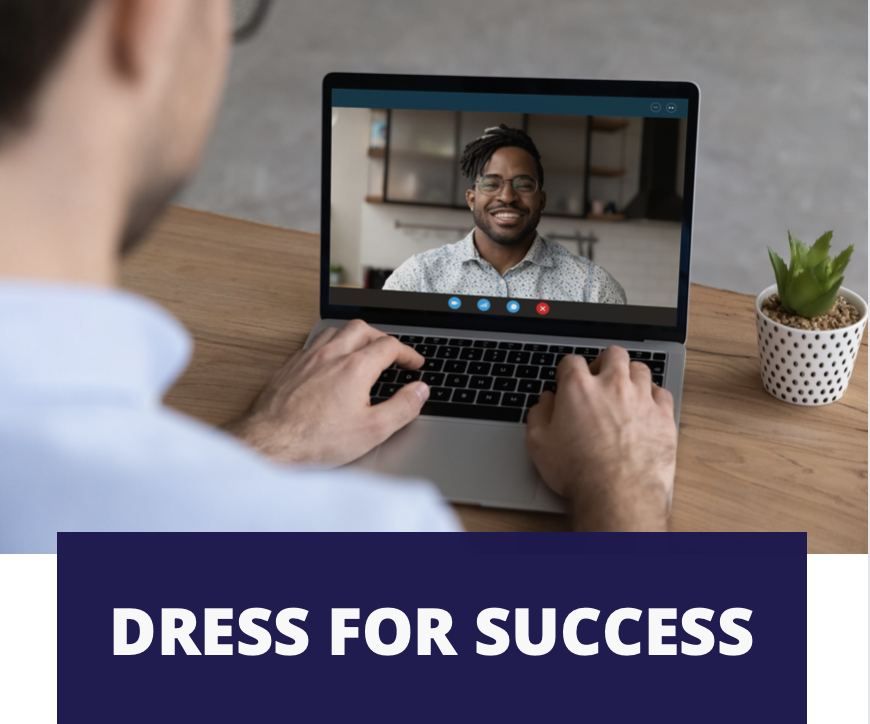 You've heard the expressions, "Dress for Success" or "Dress for the job you want." Well, it's true. It sends the message that you're taking the interview seriously and impacts your mood and performance.
It's important to feel put together and confident during your interview. So take the time to get ready and feel good about yourself. Even if this means investing in a new interview outfit. It's all about getting in the mindset of ' owning ' yourself. 
Trust us, your interviewer will notice. And it may be the reason they choose you instead of the person with similar skills and resume who didn't put the effort in to look presentable and professional. 
5. Eye-Contact
Nothing screams confidence like strong eye contact. And it's even more important to do this virtually because of the lack of nonverbal cues already.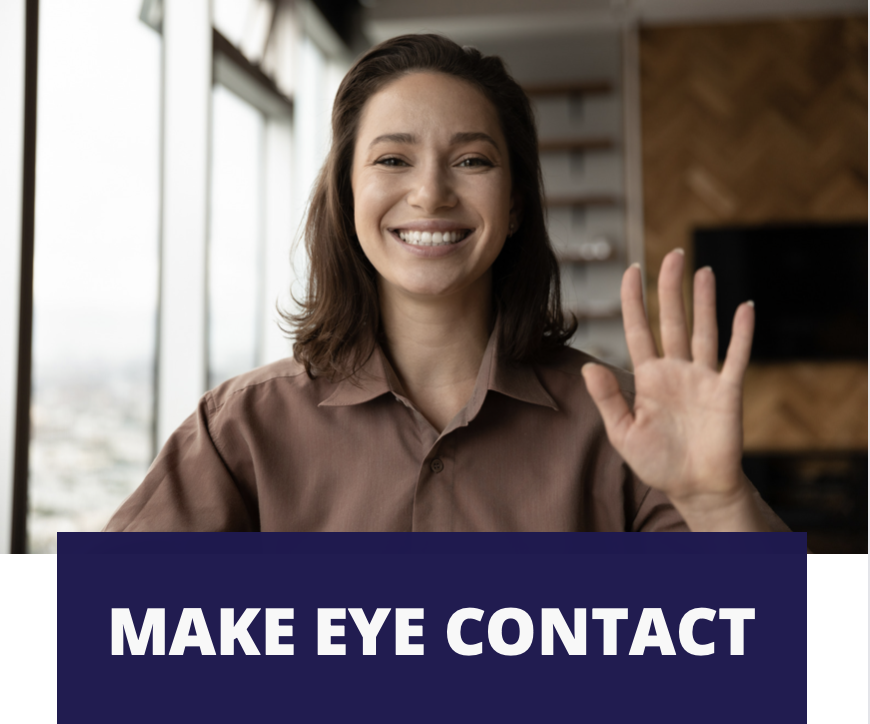 It's easy to look down at our own video to see how we look or to be looking at our resume or a pulled-up document on our screen. However, you MUST look straight into your screen's camera. If you don't it'll look like you're looking off to the distance, or down at the ground. What's worse is it appears like you are insecure. 
This is why you should place an attachable selfie light at the top of your computer or even just place a bright sticker that rises behind your computer's camera. It'll help you ignore your own video and will ensure that you are in fact looking into the camera. We promise you'll come across as confident and ready to work.
Conclusion: 
All in all, there are many challenges that come with virtual interviews, and slip-ups can happen. But if you follow our 5 tips, we promise you'll be less stressed and more prepared to succeed. Just remember to be authentic and confident in what you have to offer. 
Learn More: Top 6 Virtual Meeting Tools for Small Business Owners
Subscribe to our
blog
Get a weekly email of our latest posts sent straight to your inbox
Learn

more

about the 宝博电竞积分排榜 Platform
FOR INDEPENDENT
PROFESSIONALS
your independent business with 宝博电竞积分排榜
Engage, scale, and optimize
your independent workforce